5 BEST WAYS TO TAKE CARE OF YOUR LASH EXTENSIONS
Here at Ceecees we can never stress enough about the importance of taking care of your lash extensions.  Our goal is to provide information on how to best care of them so that your lashes always look flawless and most all, that you are happy and love them.  Today we are sharing 5 Best Practices for Taking the Best Care of your Lash Extensions . . . take note!
The first thing you need to do to take the best care of your lash extensions is . . .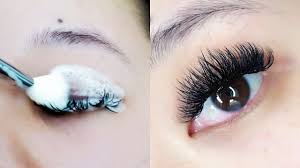 Keep Them Clean: The best way to keep your lash extensions clean is by using a lash extension oil-free cleanser. At Ceecees, we offer cleansers that are specially formulated for cleaning your extensions. Our gentle, oil-free and alcohol-free cleansers have the same pH level as natural tears and comes in a foam bottle for easy useandcleaning your eye area to remove makeup, proteins, and oils, we recommend applying the cleanser to a lash brush with soft bristles specially designed for lash extensions. Be sure to brush along your lash line and down through your lash extensions with the lash foam. Also use the foam to remove eye makeup or even as a whole face cleanser. After cleaning your lashes wash the excess foam off with water and brush the lashes with your mascara wand. Use a hair dryer on low heat and fan blowing up to dry your lashes especially if you have Russian volume to fluff out those fans and reshape the lash extensions.Not cleaning and washing your lashes will cause the most damage and poor retention of your extensions.
Avoid Oil Based Products: Any skin care products, creams or cosmetics that are oil based are a 'no-no' when it comes to lash extensions.  Be sure to select products that are labelled oil free to ensure the longevity of your lashes. And when in doubt – always read the label of ingredients to make sure what you are using is truly oil free. Ingredients to stay clear of are glycerine, glycerol and essence these are all bio products of oil. Natural oil from your follicles and oil in products breaks down the lash adhesive causing it to soften and then harden again which will clump lashes together and inhibit the natural lashes from growing and shedding naturally. The lashes can retract back into the follicle causing lash loss and folliculitis and infections.
Wear No Mascara (or very little): The beauty of lash extensions is that you have lovely, long, full lashes without having to wear mascara. We know that some ladies may still want to wear mascara on occasion, and that's okay if it's an oil- mascara made for lash extensions. However, wearing no mascara at all is better when it comes to extending the life of your lashes. If you simply must wear mascara, be sure to only wear an oil-free mascara on classic lashes only NOT on your volume lashes as the mascara will clump the fans together. If you do wear mascara remember to wash off with your oil-free cleanser daily. Lastly, when applying your lash extension safe mascara, only use one coat and only apply to the tips of your lashes. Purchase your oil-free mascara at the Ceeceessalon .
Avoid Over Exposure to Moisture: Too much moisture on a constant basis is not good for your lashes. But daily washing of the face and activities like swimming are lash extension safe.
Maintain Refills Regularly: All the tips we have mentioned are very important, but this one is probably the most important! Sticking with your refill appointments every 2 weeks will keep your lashes looking their absolute best. The longer you wait for a fill, the harder it is for your lash stylist to keep your lashes looking full and fabulous.  If you go too long without getting a lash refill, a full new set may be required.  So,maintaining your refills is a good idea in more ways than one!