Eyebrow Extension - $399
Course Cost: $399 Including Training Manual and Certificate
Book Now with Course Deposit – $199.00 AUD only or choose interest-free payment plan (upto 6 months) option openpay in the checkout or pay in full
Course Duration: 4 Hours, Model Required
Course Requirements: No previous beauty qualifications required. Must have basic knowledge of English to attend group training. For non English speaking students please refer to TAC or FAQ for alternative training sessions.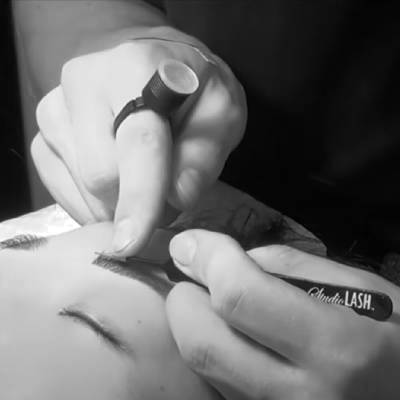 What's included :
Read More
Practical exercises and theory covering:
Preparation
Design
Application
Health and safety
Contraindications
Advanced techniques
Refills
Aftercare
Client consultation
Marketing and pricing
Product overview- Retail and Technical
Course Outline Summary
On completion of training students will have wholesale price access for eyebrow extension products via Studiolash.
Ceecees Beauty and Training in South Yarra uses revolutionary new application process Eyebrow Extensions which provides additional length and/or colour to Eyebrows. Eyebrow extensions are similar to eyelash extensions in that existing eyebrow hairs are extended with a single synthetic extension. For those with little or no Eyebrows, the StudioLASH® Skin-Safe Eyebrow Adhesive will help Therapists construct the perfect arch and shape for clients. Extensions adhered directly to the skin and will normally last 2-3 weeks with correct aftercare. Manufactured in the UK especially for Eyebrow Extensions, this Clear Skin-Safe Adhesive is the ONLY adhesive suggested for applying Eyebrow hairs onto the skin.
Introduction: Course objective, scope of training, certification assessment session content.
Description of eyebrow extensions: Types of eyebrow extensions and equipment used and techniques required to achieve eyebrow extensions. How the hair growth cycle affects extensions.
Client assessment practices: Client assessment process, assessing the clients' eyes and eyebrows, assess and discuss. Options, eyebrow shape, practical client assessment exercise.
Eyebrow extension application technique: Picking up the eyebrow extensions, holding the tweezers, placing the eyebrow extensions.
Application preparation: Occupational health and safety, client preparation, workstation preparation.
Eyebrow extension application step by step: Client preparation and application of eyebrow extensions, correct application, eyebrow extension removal, the cause of eyebrow extension damage. Contraindications.
Eyebrow extension refills and removal: How to refill and remove eyebrow extensions, troubleshooting.
Marketing, pricing, product knowledge, client aftercare
Read Less