About us – Beauty Training Courses in Victoria
No matter where you are in life, or what study or career goals you may have for your future, there are now more choices than ever in the beauty industry. In the last five years, the beauty industry emerged as one of Australia's largest employment growth areas.
CeeCees Beauty and Training has a qualification or training courses program that is right for you in the beauty industry. Have you been thinking about changing careers or wanting to just have another skill set? Maybe you have a full-time job and want some extra money on the side or you would like to be a part of this amazing growing industry and become an industry expert working in salons. Maybe you would like to start your own business from home working your own hours, earning your own money and being your own boss. Have you had a family and don't want to go back to working full time and would like to work your own hours around your kids without the cost of daycare. Whatever your choice our industry-focused beauty short courses are designed for people just like you. We also have industry connections to help place you in employment.
Our industry-focused training is designed to advance your knowledge and technical skills. A range of courses are available and are delivered by industry practitioners in a professional studio and workplace environment where you will feel comfortable and at home whilst you learn.
Carole and her team are so passionate about training courses and education and get great pleasure out of passing on their years of experience and seeing the progress and success of our many students. Kick start your career today and get the rewards you deserve.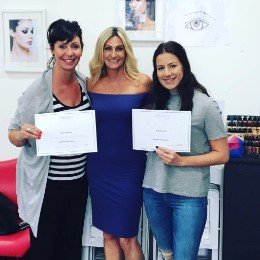 Ceecees Beauty and Training are pleased to offer you the opportunity to receive a nationally recognised Statement of Attainment in SHBBMUP001 Apply Eyelash Extension. This short course will be delivered by Carole Charles, owner and director of Ceecees Beauty and Training and registered trainer of the Australian Massage and Beauty Institute (AMBI) (RTO: 40909).
Reasons to get trained with us
Small class sizes maximum 4 students
Ongoing support and mentoring
Industry connections
Fun, interactive affordable training
No previous beauty experience required
No restrictions on age or background
One on one flexible training available
Salon staff training available