Starter Henna Brow Kit
Get a complimentary Starter Henna Brow kit when you book the course (Valued at $115)
Black 10g
Medium Brown 10g
Activator 50ml
Angled Brow Applicator Brush
5 x Disposable Mascara Wands
1 x Glass Mixing Bowl
Professional Henna Brow Kit
Upgrade to a Professional Henna Brow kit for an additional cost of $250 (Valued at $350)
Each colour contains a mixing bowl and scoop and will on average do up to 100 applications.
Colours Can Be Mixed for Colour Matching
5 x Henna Brow Colours – 10g

Golden Blonde
Light Brown
Medium Brown
Dark Brown
Graphite

Brow Primer 50ml
Brow Scrub 100g
Brow Oil 15ml
Brow White Mapping Paste 8g
Lash & Brow Shampoo 50ml
Activator 50ml
Remover 50ml
Brow Applicator Brush
Glass Mixing Bowl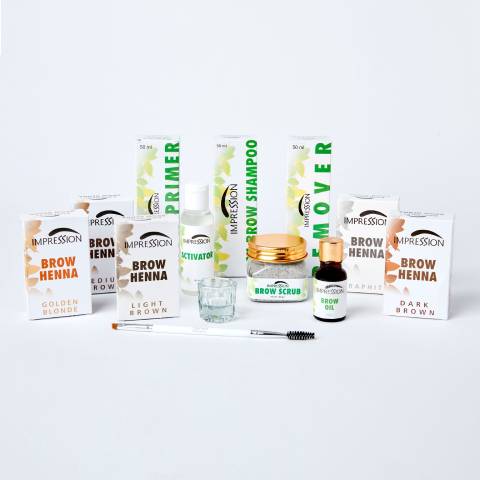 Henna Brow Tinting Kits
Want to learn more about the complimentary and upgrade kit options for our henna brow tinting course? Check out this video to learn all about the kit options available! Feel free to contact our friendly team if you have any questions!