Hi I'm Carole, the owner of Ceecees Beauty and Training and in this blog I'm going to explain the difference between all the lash services that are now available in Melbourne. I have been doing lashes for 17 years now and wow have things changed to what they were.  We only had classic single extensions to offer but now we have hybrid, Russian volume and Pre-made volume lashes.
There is so much to offer now for clients and technicians and it can get very confusing to what is available and what to choose.  Whether its classic, hybrid or volume a fully trained technician will be able to map out a design and lash shape for you using different curls, lengths, weights and even get artistic using colour, glitter, diamontes and feathers .A skilled technician will meet your desired outcomes whilst looking after your natural lashes. I now spend most of my time educating and training but every now and then I work in the salon doing clients which keeps my skill level up as the industry is constantly evolving.
From my experience in the lash world it has been a very grey area with no real guide lines around delivering lash training or for technicians offering lashes as a beauty service which over the years has resulted in a lot of bad training and work out there.  At Ceecees Beauty and Training, I and my staff offer an extremely knowledgeable high level of training of Eyelash Extensions in Melbourne to our students and our technicians are highly trained and skilled and are assessed every 3 months in the salon to make sure they are offering a high skill level or work to our clients.
My advice if you're a client looking to have lash extensions applied in Melbourne make sure your technician is fully qualified and can show certificates of training. If you're a student looking to learn eyelash extensions in Melbourne or to upskill in the industry, make sure you are trained by certified trainers and organization.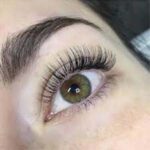 Classic lashes are synthetic single strands grafted individually onto a single natural lash Available in different curls, lengths, weights and colours.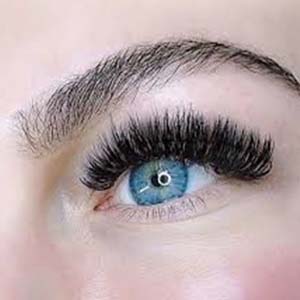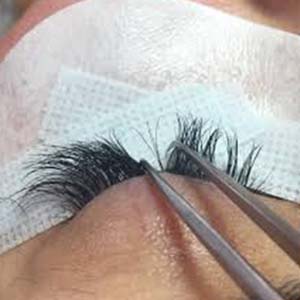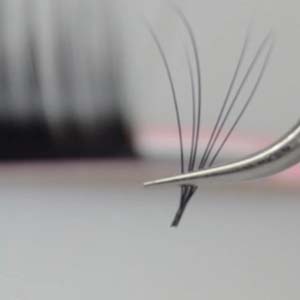 Russian volume lashes are very light synthetic strands. The technician uses special tweezers to hand make a fan the stems are bonded together with lash glue and that is then placed onto a natural lash. ranging from a 2d for light volume look 3-4d for average volume look and 5d and up for an extreme look. Russian volume lashes create a soft fluffy lash line but still light on the natural lash.  Only a highly trained and skilled technician can offer this service. Note this service takes twice as long as a classic lash service. These lashes also are available in colour.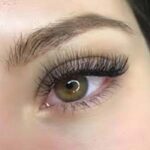 Hybrid lashes are simply half Russian volume and half classic. This is a great way to introduce clients to Russian volume or just because they like the look of hybrid. Russian volume lashes take longer and are more costly so that also appeals to clients having hybrid is an in between. Hybrid is also available in colour.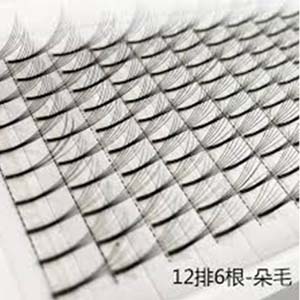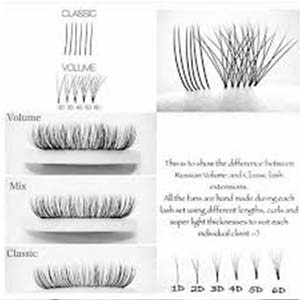 Pre-made volume lashes are fans of lashes already made in production and bonded at the stems. They are taken off the strip and then bonded to a natural lash. Technicians that are not trained or skilled in the art of Russian volume lashes use these to do volume sets of lashes.
We at Ceecees Beauty and Training do not use these as we are trained in Russian volume. They are also not as light and fluffy as the Russian volume handmade fans they are more stiff and structured and if not used correctly the stems can result in being too thick on a natural lash. Premade volume does not take as long to do and should be cheaper for the client. Technicians using premade fans should advertise these lashes not as Russian volume but as volume pre-made as it is mis-leading to clients.
Hope this article has been helpful whether you're a client trying to decide on what lash extensions to get for you or if your wanting to learn the art of eyelash extensions here at Ceecees beauty and training we can help with both. Visit our Facebook and Instragram contact us anytime for advise or just a chat about the amazing thing called eyelash extensions.
Carole Charles
Lash artist| Ceecees Beauty and Training