The Beauty Business Prep and Planning Guide
HAVING A SKILL TO MAKE MONEY:
Do You have the appropriate certification/qualification in your state or country to offer Eyelash extensions in your community?
There may be required qualifications and insurances you need in order to start an Eyelash Extension business.
Do not move to the next stage until you know you are compliant for insurance and with your local council. This is very important. Each state could have different requirements check with them to ensure you will be compliant with your states governing laws. We strongly recommend having public liability insurance before servicing paid customers. Our recommended insurance broker for insurance in the beauty industry in Australia is www.insure247.com.au they offer public and indemnity insurance.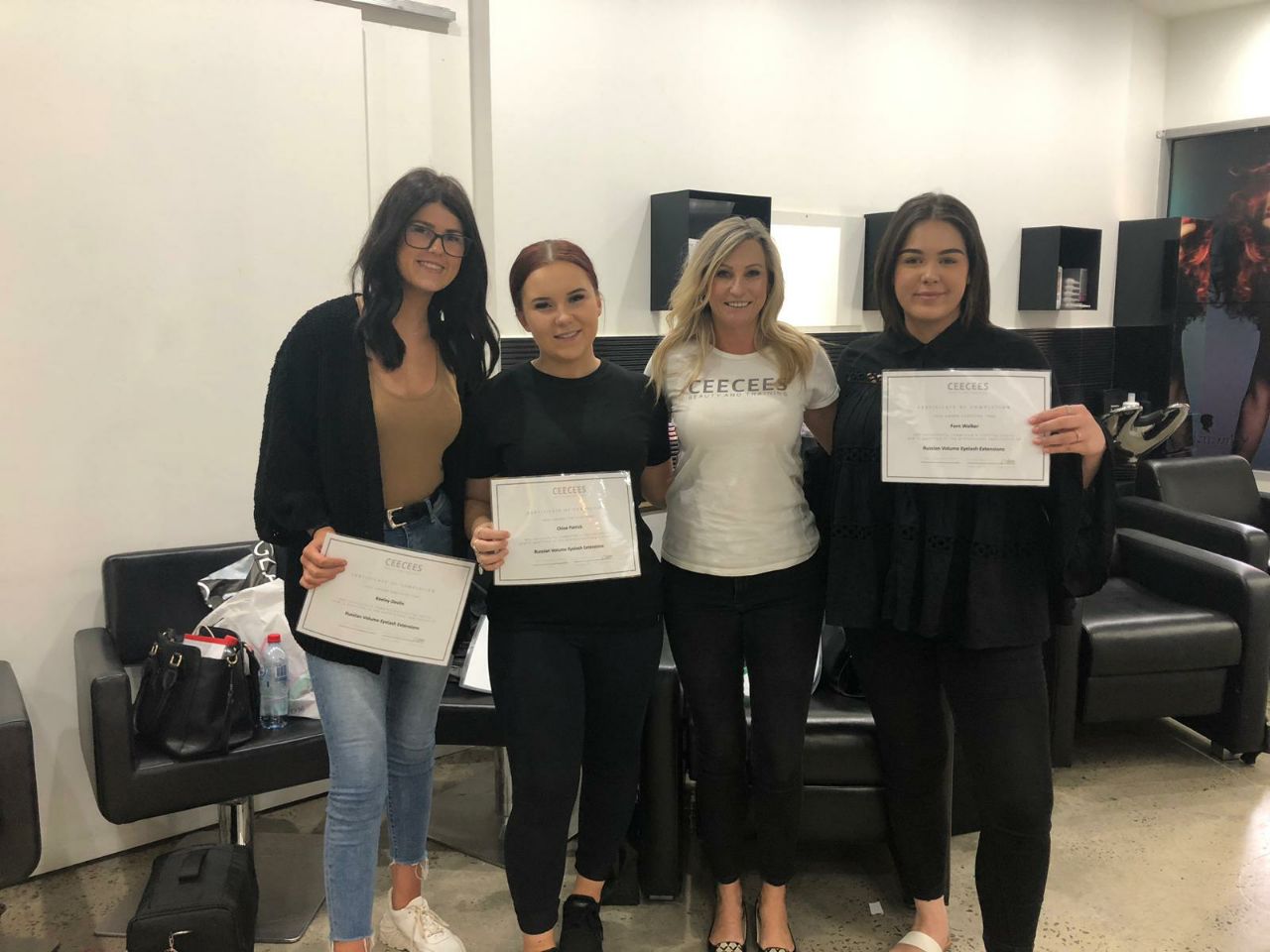 Have you taken lash training and are certified?
This is a very important step in moving forward. Do not attempt to be self-taught and start charging and taking clients without the correct training. Your training must not set you up for failure financially or personally. Choosing the right training academy that will give you the required qualification that ensures you will be compliant and for the future as the industry changes is crucial. Make sure the company can keep you updated when new qualifications are required, and they can offer you those upgrades. Make sure you do research into the company their qualifications and experience and the level of support on offer.
7 questions to ask yourself before starting a lash business?
1. What is my business structure and plan?
If you have never worked for yourself or started a business this can be very tricky and lead you to failure. If you have no idea talk to industry mentors, join groups do as much research as possible and educate yourself do not go in blind! here are some things to consider: Will you just be sole trader? will you register as a company?  Will you register a business name? What are my tax requirements? Will I offer credit card and efpos facilities?
Branding is so important your name your colours your theme your identity try and get this right in the beginning to avoid the cost of having to change down the track. Do I want to keep it really simple? is this my side Hussle or am I considering growing and expanding and even employing staff? Will youset-up from home or will you rent a space to run your business? All these things you must plan in advance. Set your goals! No matter whether your gaol is to stay small and simple or big and take over the world you must plan.
2. Who is my competition in my area?
With a clear vision of what is going to make you and your services standout from the rest is important. Doing some research on what your competitors are offering with pricing and services will give you an idea of what the local market is being exposed to. I suggest booking in as a client to a few competitors to find out the customer experience and to also be inspired by how you would like to run your business and also the things you don't like and would never replicate.
3. What areas do I need the most help in to set myself up for success?
Let's face it we were not all born experts in running a business, it's something that we must all be a student in. You might master one area of your business-like customer service, but lack skills in other areas such as marketing. When it comes time to expand you may have the basic skills of starting a business but are faced with new challenges. Knowing where you can turn to for that information is going to be huge in the long-term health of your business. Information is the key to success don't be a know it all! be a sponge for info never stop learning and you will be amazed at who you learn from. We can all learn regardless of how big or small we  areas a business keep that in mind.
4. How do I stay motivated and don't quit before even starting?
It takes a village to raise a child and it takes a tribe to keep an entrepreneur from giving up every 2-3 days! I recommend finding people and a means of support that will keep you motivated and encourage you on the bad days. Remember today is only today not the rest of your life! tomorrow is another day and today doesn't define your future. You can't change the past only the future. There is generally a solution to every problem. If you start with this mind set, then your one step ahead already.No one else is in control of your dream your destiny your future only YOU! Rome wasn't built in a day!
5. How do I plan on marketing my business and to who?
A saying (if you build it, they will come) That's one strategy to send you broke and make you feel like an epic failure. There are a few ways to market your lash business and have a balanced combination to reach your target audience and help you grow your lash business. If you don't know how to talk to or put your newly opened business in front of the ideal type of clients who would benefit from your services, then you should just stay working for someone. What audience are you trying to target? is it a mix of people from all warps of life or specific? is the audience by price and age? The type of marketing you do will attract a certain audience.
Remember being the cheapest doesn't always bring in the best quality client. Being the most expensive might attract only a small portion of society. There is so much to think about. 
6. How much money do I need to start?
There's a reason this is the first question on the list. No matter how much you would like to stick your head in the sand regarding finances and having enough money to start up your business, it is what you need to be ready to face regularly as a business owner. Being financially oblivious or (shoving it under the carpet as they say) will be detrimental not only to your business but could jeopardize your entire personal life as well. Nobody plans on going bankrupt when they start-up a new business how-ever big or small it may be, but the reality is it can happen, and it does.
7. How many clients do I need?
Knowing your numbers not only applies to finances, but to reaching your goals. Do you know how many regular clients you currently have? (if you have a clientele following you) How many clients a day do I require to pay the bills and to cover all outgoings and expenses? How many do I require to be financially comfortable? How many do I require to grow my business? What is my capacity? These are all important goals knowing the exact number of clients required for each goal. This way you can achieve and grow in stages and not over capitalize. Very important to map out your lash menu with prices and then you can work out the different scenarios of how many clients are required. For eg: a model for refill prices let's say a classic refill is $50 and it takes you 1 hour. Your capacity of the day is 7 clients 5 days a week. Your total earning's net is $2450. Not bad money is it sounds great, but it takes some work to get there. Then you must take out all your expenses for eg rent, products, misc.expenses. I recommend doing different scenarios to work out the best model that includes pricing and capacity of work to suit you. Always have plan B in place before plan A which means:  what is the least amount of money I have to earn to survive?
Discover how to get your first paying clients so you can start to generate sales
Do you have a base of clients you can start charging?
Start working on friends and family at a discounted price whilst you are learning. The more eyes you can get your hands on the more practise you will get. Practising on just a mannequin head will not give you real life experience you need nor will it pay you. Just aim for covering your costs at this stage. Very important to remember when you charge a client full price for a service this is what they expect.
For the service to be done in a reasonable time frame.
They get what they were consulted on their desired outcome.
Not only does there set look good it performs good as well.
You must also feel confident in being able to achieve these goals otherwise you will set yourself up for failure.
BREAKING DOWN THE LEAGALITIES OF RUNNING A BUSINESS
Decide on the legal structure you will be. A sole trader or a registered business/company.
Seek the advice from a good accountant for tax purposes.
Claiming your business name and brand online.
Do you have a business name?
What if I told you it doesn't really matter what your business name is? Well no one knew what Coca Cola or Pepsi was till they became a business. Brainstorm a list of names that sound good, fun, classy and elegant to you. Start crossing ones off that you just can't see yourself saying or are hard to sound or spell. Once you have your final list of words start throwing in in other words such as "lashes" beauty" salon, spa, beautybar, lounge etc until you start to come up with something that appeals to you. Keep it simple and under 20 characters.
Run these ideas past friends and family for feedback you will find most people end up agreeing on one or two of what you have. Then do the research to make sure no one has something similar for eg: fabulash ,fabulashes, fab_u_lash it will get confusing for people to find you and for when you're trying to make a name online for yourself.
Have you reserved your website domain name and are you working on getting a website up and running?
You will eventually need a website to be taken seriously as a growing business and not a hobby somebody does in the spare room. Websites don't have to be expensive and you don't have to be super technologically gifted to create your own. But if in doubt hire someone to do it for you. A good website with an online booking system will help grow your business to the next level.
Do you have your social media pages for your lash business?
Once you have selected a name, you will need to reserve the social media handles toensure there is consistent branding. If someone else already has the social media handle and website of the business name you want , you may consider changing the name completely or you will forever find people finding the wrong accounts to follow for eg @lashesbyjess and your then saying no its @lashes.by.jess important to get this right ..
Maybe your business will start word of mouth which is one of the best forms of marketing family friends etc. But as you grow you will need to consider how you will market and the costs involved. Free marketing is great such as word of mouth, social media Instagram and Facebook. Warning do not mix personal socials with your business. Set up a business instagram and facebook separate to your personal this is relatively simple to do. If you're not savvy with this ask anyone younger than yourself for help trust me, they will know! Gone are the days of advertising in magazines, newspapers doing letter box drops educate yourself in social media or get someone to do it for you. As you expand you might consider paid ads on social media, but these are a set ongoing cost you must allocate and put into your expenses and I would not recommend trying to do yourself unless you are very savvy in this area otherwise it could lead to forking out money for nothing or no result.
Is the name trademarked?
Check the trademark database to make sure someone has not already reserved the exclusive legal right to use the business name you are considering. It could be a legal headache to rebrand.
FINANCIAL START-UP COSTS
HAVE YOU SAVED ENOUGH MONEY TO PURCHASE THE MINIMUM AMOUNT OF SUPPLIES AND EQUIPMENT TO START TAKING CLIENTS?
Prepare a spreadsheet of how much everything will cost from product, equipment and supplies so you can take clients. You can start with the basics doesn't have to be absolutely everything available on the market but enough to get you going. (This will not include your training or insurance costs). The last thing you want is to start taking clients and saying (oh sorry I don't have that yet) be prepared. There is a difference with just the basics to not being fully stocked enough to service a client completely .
Do you have a space to lash out of?
You need a space to operate a business. If you're just practising on friends and family and not charging them working from a room at home should be ok for a while. Once you start charging clients and taking payments you will be considered a business and there will be laws and regulations you need to follow whether your lash space is at home or you are renting space. Very important to understand and follow the rules around health and safety and what's legally required of you offering lash services. You can find out these requirements from local councils and the health and safety act for the beauty industry. You could have a random health inspector inspect your place of work and if you are unprepared and not following the rules you could be fined or even worse forced to shut.
I really hope this guide helps you to start and grow your very own lash business I wish you all the success .